Black Anodizing High Volume, small parts for various Industries
(Click on thumbnail to enlarge)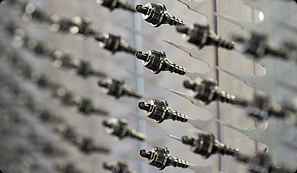 One of our core strengths at American Anodizing Co. is fast turnaround of high volume projects. Over the years, we have placed great emphasis on continuously improving our processes to optimize production flows while stressing quality with economy.
Processing high volumes of small parts is something we do on an every day basis. This project involved anodizing a quantity of 20,000 small parts with dimensions of less than 1.5", all constructed from 2000 series aluminum alloy. Specifications called for a Type II Class 2 black anodized finish, which is a conventional coating produced from a sulfuric acid bath combined with a black dye. We utilized specialized racking that gave us the versatility to firmly secure the parts in a high density configuration, yet would allow ample circulation of the chemical bath around the full part geometry.
Our control system monitored all aspects of the anodizing process, including time, temperature, bath chemistry, voltage, and current. This automated system provided an elevated level of process repeatability to ensure consistent and uniform results over a large volume of parts. Ample testing and sampling of the anodizing solution ensured that the black aluminum oxide film was extremely hard and highly resistant to wear and corrosion. Other quality assurance processes consisted of color inspections and measurement of coating thickness, weight, and density. We also made a full evaluation of its corrosion resistance properties.
Start to finish, we completed the job within our typical 4-5 day window. If you are interested in learning more about our anodizing capabilities and how they can streamline your production, contact us today.
Black Anodizing High Volume, small parts Project Highlights
Project Name & Description

Type II Class 2 Black Anodize
Capabilities Applied/Processes

Black Anodize
Overall Part Dimensions

≤1.5"
Tightest Tolerances

Mil Finish
Material Used

2000 series Alloy
Material Finish

Type II, Class 2 Black
Additional Information

Specific Racking Was utilized for this Part
In process testing/inspection performed

Uniform finish, 100% Inspection Color % Certified
Volume

20,000
Delivery/Turnaround Time

4 -5 days
Delivery Location

Midwest
Standards Met

Customer Specifications
Why Did you choose this Project to show case

High Volume for small parts