Fast Clear Anodizing for Various Industries
(Click on thumbnail to enlarge)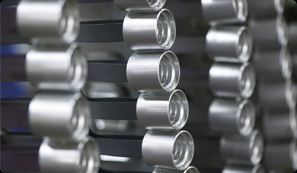 In today's fast-paced manufacturing environment, delivering high quality products according to firm delivery dates is vital. At American Anodizing Co., we firmly understand that our services are typically called for as projects are nearing the finish line. Our ability to turn jobs around quickly and while providing an elevated level of quality has enabled us to succeed and grow our business over the past 25 years.
This particular project involved providing a Type II Class 1 clear anodized finish on a production lot of 4,000 parts fabricated from 6061 aluminum. These small parts, highlighted in the picture here, featured dimensions of less than 2". To ensure uniform anodizing coverage, we developed job-specific racking that held the products securely while ensuring continuous electrical contact. Our high capacity production lines, which incorporate cleaning, pre-treatment, anodizing, and sealing processes, enabled us to move these parts along quickly. We carefully monitored all process parameters to ensure they remained within the pre-programmed set points to achieve the desired finish.
In addition for inspection and measurement of coating thickness, weight, density, and corrosion resistance, we conducted seal testing to measure the porosity and ensure the coating would resist staining when in use. These quality assurance checks validated that our high performance anodized finish would provide the durability, aesthetics, and ease of maintenance the client expected. Very importantly, we worked around the clock to ensure this job was completed within a 96 hour timeframe to help the customer meet their promised delivery schedule.
To learn more about this project or how our anodizing capabilities can benefit your next project, contact us today.
Fast Clear Anodizing Project Highlights
Project Name & Description

Type II Class 1 Clear Anodizing
Capabilities Applied/Processes

Anodizing
Overall Part Dimensions

≤2"
Material Used

6061 Aluminum Alloy
Material Finish

Type II, Class 1 Clear
In process testing/inspection performed

Seal Test
Volume

4,000
Delivery/Turnaround Time

96 Hours
Delivery Location

Indiana
Standards Met

Customer Specifications, 2D CAD Drawing